Does your Toyota car, truck, van or SUV come to a squeaky stop when you apply the brakes? If so, then you'll need to have your brakes checked. Don't just bring your vehicle to any mechanic either, bring it to us! Our staff of highly-trained technicians will get your brakes fixed or replaced with the utmost care at our state-of-the-art service center. While you wait, you'll also be able to take full advantage our comfortable lounge.
Brakes are one of the most important things on a vehicle that ensure safe driving. When they become worn they lose their ability to function properly, which could end up jeopardizing you and your passenger's safety out on the road. We recommend getting them inspected every 10,000-15,000 miles.
Your One-Stop Shop For All Your Brake Services
Whether you're in need of a brake pad replacement or a brake fluid flush, we do it all at Seminole Toyota. Aside from our highly-skilled staff of expert technicians, our service center is equipped with some of the latest technologies to help you get back on the road in no time.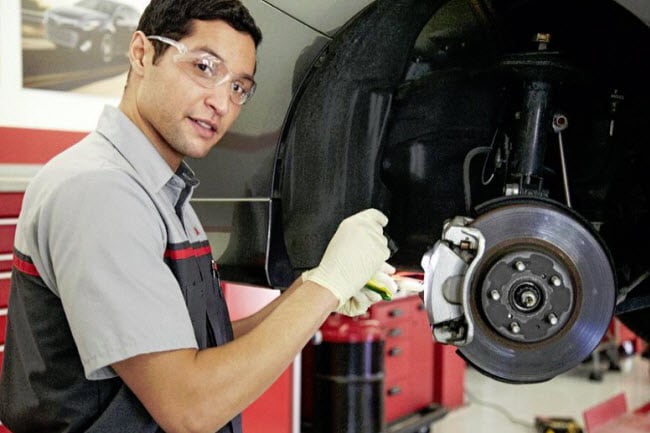 From the moment you walk in our doors for Toyota brake service in Sanford, we will fully diagnose your vehicle's brake system to pinpoint the exact problem. From there, we will help you understand the issue and how to best fix it. During our intense brake examination, we go through your brake system like a fine-toothed comb, checking brake lines, brake pads, discs and fluid levels.
Why Choose Seminole Toyota for Brake Service?
At Seminole Toyota, we put our customers first, because we believe that you are our biggest asset. Our team of experienced automotive professionals will not only provide your new or used vehicle with exceptional, high-quality service, but will also give YOU the outstanding customer service that you deserve. Plus, because we are such a high-volume Toyota retailer, we are able to offer our customers very affordable pricing. In addition, our brake service coupons are designed to save you even more money.
Please contact us with any questions you may have and one of our friendly associates will be happy to help answer all your inquiries. We look forward to serving you!