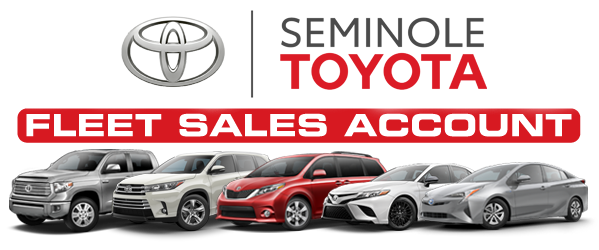 A Fleet Sales Account at Seminole Toyota is any commercial company that maintains a fleet of five (5) or more vehicles in service.  Allow us to do Whatever It Takes for your business needs by establishing a one-on-one relationship with your company and our Fleet Professionals. We can provide any type of vehicle including delivery vehicles, passenger cars, durable work trucks, "green" options and much more. And all of our Toyota's are backed by a 2 Year/ 25,000 Mile Maintenance Plan with the lowest operating costs and highest resale value.
As a Fleet Sales Account your company has three options for purchase:
Finance through Seminole Toyota
Cash Purchase of Vehicle
Lease a Vehicle through a commercial lease company. For orders of this nature, the commercial lease company must supply Seminole Toyota with a copy of its purchase order from its commercial customer.
To find out if you qualify under the requirements listed above, please fill out the contact information form to the right, on this page, and a Fleet Professional will contact you as soon as possible. Our Fleet Staff is trained to assist you in choosing the best vehicle for your budget and company needs.