Toyota Transmission Repair and Maintenance in Sanford, FL
Determining the right interval for changing the transmission fluid in your Toyota depends on a variety of factors including transmission type, model year, and your driving patterns.
When should I change my transmission fluid?
Start by consulting your owner's manual. It will give you the manufacturer's recommended transmission fluid change interval for your specific vehicle. For most vehicles on the road, the interval can range anywhere from 15,000 to 100,000 miles or more.
On the average, automatic transmissions will need a fluid change every 60,000 to 100,000 miles.
Manual transmissions require fluid changes every 30,000 to 60,000 miles.
If you put a lot of mileage on your vehicle or heavy-duty use, ask the auto service technician at our dealership if you could benefit from a 15,000 to 30,000-mile transmission change interval.
Why is it important to change your transmission fluid?
Changing your transmission fluid regularly ensures better lubrication, heat reduction, and holding ability among friction components over the life of your vehicle.
With the passage of time, debris from metal shavings and particles from a wearing clutch can build up. The debris and particles can get wedged near the moving parts causing clogs and wear and tear throughout your transmission components. Flushing the old fluid removes the debris and replacing it with new transmission fluid prevents excess wear. Changing your transmission fluid helps to reduce slip and heat production while restoring the holding power between clutches. Your transmission will last longer, and you'll avoid costly repairs due to transmission failure and the mechanical breakdown of other major components.
How can I tell if my transmission fluid is running low?

Leaks. If your car is leaking transmission fluid, you'll notice it on the ground beneath where your car is parked. Take note of the color of the fluid. Fresh transmission fluid generally appears pink in color. As it turns brown, you'll know it's time to change your transmission fluid. If it appears very dark, like motor oil, or contains debris, schedule an appointment with our service department right away.
Noise. If you hear grinding or groaning sounds coming from the transmission, your fluid could be low
Slipping. If your Toyota is running at high RPMs, you notice abrupt shifting patterns, or it falls back out of gear, have your transmission fluid level checked.
If your vehicle won't shift at all, or you smell burning, your transmission fluid may be depleted. The transmission will overheat and possibly burn out leading to extensive internal damage. Prompt attention to your transmission fluid levels can save your vehicle's mechanical components, cost less and keep you on the road longer.
What is included in transmission service?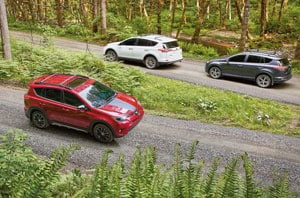 Like replacing your engine oil, transmission service is routine maintenance that can be performed in a short amount of time. When you get transmission service at our dealership, our Toyota auto service professionals will:
Examine the sump or pan
Clean the pan and install a new gasket before replacing the pan
Clean or replace the filter or screen, as needed
Flush and remove the old transmission fluid
Add high-quality ATF transmission fluid
Your service professional will also determine if you need a friction modifier, additive package, or external filter to protect the cooler line.
Schedule Transmission Service
Extend the life of your Toyota. Call us to schedule a complete transmission service today.